Meet our Wedding Team
Our job at Rocky's is to take the stress away from your wedding day. We want you to sit back, relax, and look forward to one of the most special days of your life. That's why our team works closely together, supporting each other, to make sure that your event runs smoothly, the details you specify are handled, and you get the Samui wedding you've always dreamed of. This is what sets our team apart from many other resorts offering weddings on the island, we make sure that you get exactly what you want, a truly personalised and memorable experience.
We understand this isn't our wedding, this is your wedding. From the time you first contact us with a wedding enquiry, to the time you turn in for the night after your wedding reception, our team will ensure smooth communication, understanding of your needs, and will take care of every detail that you dreamed of. We don't just offer weddings at Rocky's, we offer weddings from the heart. Our team are dedicated, friendly and passionate about giving you a great experience.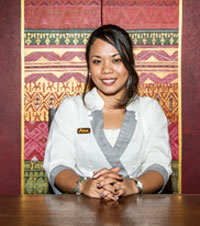 Hannah Scard – Wedding Planner
Ann has been with Rocky's for over 6 years and has coordinated more than 300 weddings at the resort. Prior to joining us, she was an assistant wedding planner, and has over 9 years experience in all. Native of the Philippines, Ann is very dedicated to the details involved in planning each and every wedding. She is the point of contact for our wedding couples and the one responsible for coordinating the team. She will make sure you get the wedding you've envisioned.
Direct Email : [email protected]