The Reception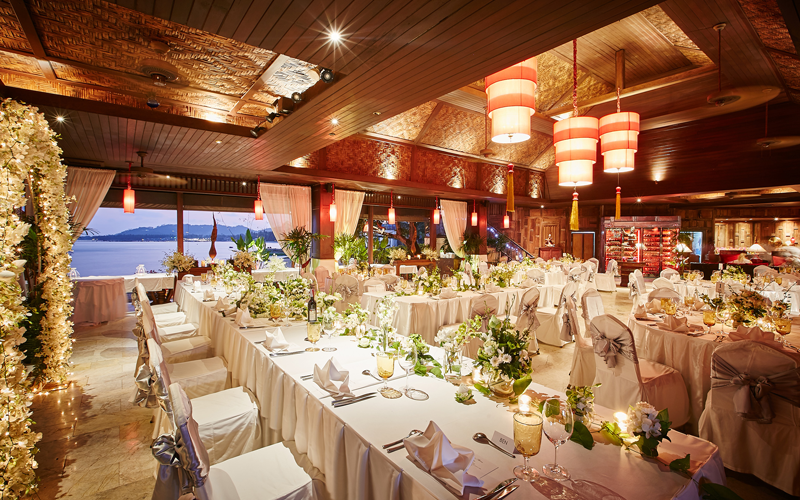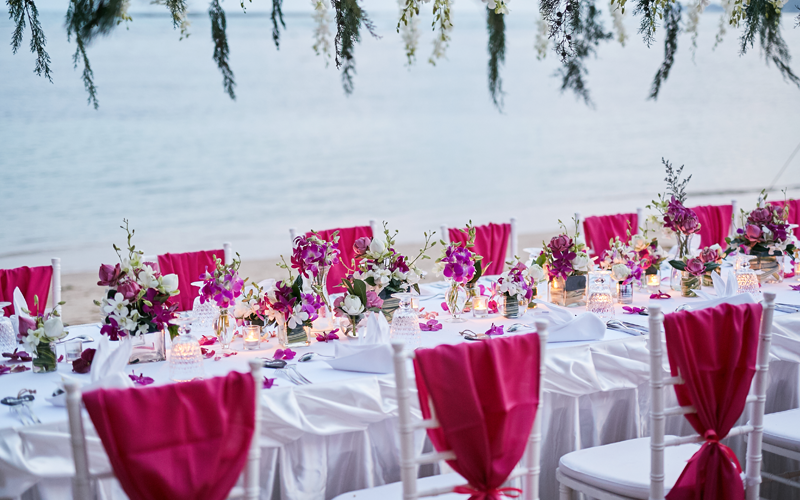 In the evening, after a beautiful wedding in Samui, what better way to celebrate than with a private samui wedding reception for all your guests? We have a number of options to let you customise your Samui Wedding reception to exactly the way you want it to be. Whether you're looking for a romantic candlelit dinner for the two of you, or a six course banquet for over one hundred guests, we can arrange an evening for you that will be memorable for you and all your guests, and hassle-free.
Following the exchange of vows & photographs, you and your guests gather at the Beach Bar to enjoy some sunset cocktails. As the sun slips away and the festive mood is heightened, the guests make their way to the comfort of the private, air conditioned banquet room.
The room is stunningly arranged with flowers, and beautifully decorated. The tables are set with a seating arrangement chosen by the bride & groom. The service staff greet the arriving guests and begin serving drinks from the open bar.
The bride & groom make their entrance to a thunderous and joyous round of applause and accompanying music of their choice by either their own music selections on cd or ipod, or a private DJ arranged by the resort.
The meal selected by the bride and groom is then served. Guests are able to enjoy the lounge area that has been set up on the large banquet room terrace overlooking the sea between courses.
A variety of options are available for entertainment during dinner or afterwards, including live music, traditional Thai dance shows, cabaret shows, and more. After the main course is complete, the entertainment will pause long enough for the nervous groom and best man to make their heartfelt speeches to a captive audience.
After dessert the guests are invited to make their way down to the pool bar for an awe-inspiring fireworks display. After a few more drinks and a chance to stretch their legs, the Samui wedding party then returns to the banquet room to find the tables have been re-arranged, the lights dimmed and the music turned up… it's time to dance!!! The party continues until the wee hours until the satisfied wedding group begins to make its way back to their rooms.
This is just one example of a possible Koh Samui Wedding Reception. There are many individual options available. Please feel free to send us a Samui wedding enquiry and we can create your own personal Koh Samui Wedding Reception.